cit·i·zen sci·ence
noun
 1. the collection and analysis of data relating to the natural world by members of the general public, typically as part of a collaborative project with professional scientists
Please check out "Resources" on the top bar for volunteer opportunities such as this one from Wild South.
This is a training event for those interested in helping restore Spruce-fir Forests through citizen science.
Saturday, March 31 10:00 AM – 1:00 PM
160 Zillicoa Street, Asheville, NC 28801
Join Wild South and the USFWS as he guides you through the process of collecting data that will help us save Spruce-fir Forests in North Carolina. This project will gather data that is essential to understanding the health of Spruce-fir Forests across Western North Carolina and will help us set priorities for the restoration of the 2nd most endangered ecosystem in the United States.
This event will cover the use of two apps that will be needed to navigate to the focal areas and then collect data at those locations. You will learn how to use these two apps, what data will be collected, and how to collect those data accurately.
Event Details:
9:00 am – Meet at the USFWS office in the lobby
9:15 – 10:00 am – Project information and instructions on Apps
10:00 – 11:30 am – Field trip to nearby Spruce-Fir Forest for field data collection training
12:00 noon – return to USFWS office, Training Done!
Please email morgan@wildsouth.org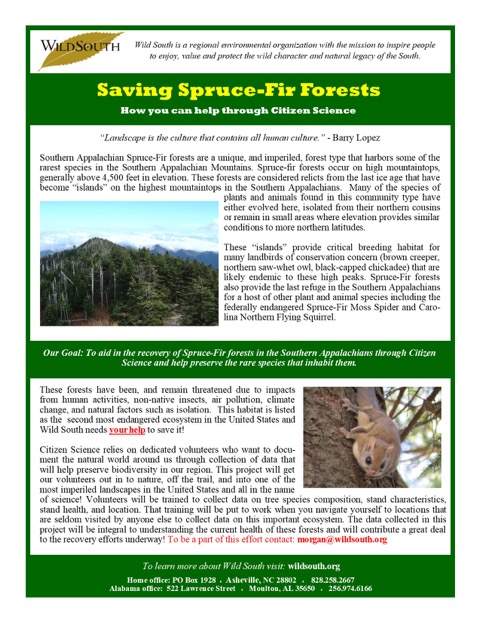 Most of us carry our phones and use them as our camera while hiking and walking. Here is an easy way to help out! Contact morgan@wildsouth.org for more information!