Oconee Bells: The Discoveries of "Perhaps the Most Interesting Plant in North America"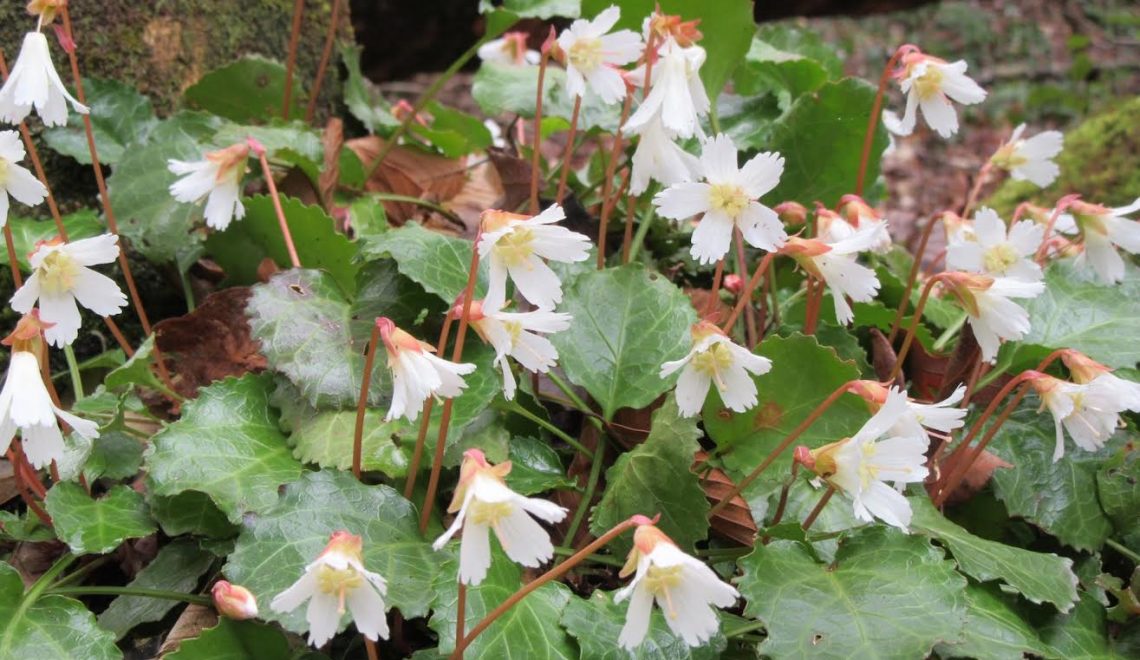 April 2017 Nature Notes contributed by
BRNN member Jenny Squires Wilker
"Rare and beautiful…The holy grail of plant collectors…Perhaps the most interesting plant in North American," wrote Asa Gray (1820-1888), the founder of American academic botany, about his life-long obsession, Shortia galacifolia. Also called Oconee Bells, Acony Bells, or Little Coltsfoot, Shortia is a low-growing evergreen perennial, variously described as a dwarf shrub, herb, or ground cover. It is indeed a rare plant, and beautiful all year round, with shiny, scalloped basal leaves that turn from green to reddish-bronze in the winter. One of the loveliest, and most anticipated, spring wildflowers, Shortia's small, solitary, and waxy flowers are bell-like, nodding on reddish scapes of up to seven inches long. The five fringed petals can be white or pinkish; the flat anthers within are creamy yellow; the long stigma, pink or yellow.
Shortia likes the cool, humid conditions of shady woods along stream banks, and it cohabits well with rhododendrons, mountain laurel, and mixed hardwoods. These habitats are not so rare, and transplanted specimens now do well in the Asheville Botanic Garden and North Carolina Arboretum, for example, as well as in many private locations. The original endemic populations, however, all occur at an elevation of around 1200 feet, and southeast of the eastern continental divide, where the borders of North Carolina, South Carolina, and Georgia meet in the Southern Blue Ridge Escarpment.
The discovery story of this beloved rare plant began In June 1787, when a French botanist named André Michaux (1746-1802) made his first trip into the Carolina mountains, determined to discover new plants. Accompanied by his teenage son, two Cherokee guides, and an interpreter, he headed north from Seneca on the Keowee River, or upper part of the Savannah River. On the third day of the trip, June 13, they turned away from the Keowee and proceeded up through the Jocassee Valley (in the lower Southern Blue Ridge Escarpment) along what is now known as the Whitewater River. In the nine miles traveled that day, Michaux found buffalo nut shrub, cucumber trees, and an abundance of mountain laurel and rosebay rhododendron. But his most important find in that stretch, without which we probably wouldn't be talking about him at all, was Shortia galacifolia. Michaux doesn't mention finding this plant anywhere in his journal, nor could he describe it scientifically, because it was not in bloom. Nor did he name it. But he did dig up, for later drying and mounting, two specimen plants, including their scapes, calyces, and fruits (capsules with tiny seeds).
The rest of this first Carolina trip was decidedly adventurous: bushwhacking further up the escarpment, crossing wild rivers on mossy rocks, gathering strawberries in the Cashiers basin, climbing over several mountains near what is now Highlands, and at last finding a well-trodden Indian trading path back to Seneca. Michaux was disappointed by the trip, however, complaining that he encountered more thickets of smilax (or greenbriar) than anything else. What he didn't realize was that the two specimen plants he dug up on June 13, 1787, were to provide the impetus for over two hundred years of botanical searching.
Michaux ventured again into the Southern Blue Ridge Escarpment mountains a year and a half later, climbing up along the Keowee and beyond through rain and ice storms in December 1788. From then on, all his other Carolina trips were to the north and east in the Blue Ridge mountains until he returned to Paris in 1797. There he handed over his entire collected herbarium of North American dried plants to the French national herbarium, and gave 500 duplicate collection sheets to his former teacher, the botanist Antoine-Laurent Jussieu. Thus, one of those two dried specimens of as the yet unnamed Shortia went to the national collection of France and the other specimen to Jussieu.
The second discovery of Shortia occurred 52 years later, when the young Asa Gray happened upon it while perusing the vast Michaux collections in the French herbarium. One day in April 1839, he opened the folder of "unidentified plants from Michaux Herbarium" and found a collection sheet with the very vague location "High Mountains of Carolina" and the tantalizing description "Pyrola species or new genus?" There was no date of collection indicated, but this sheet contained one of the two dried specimens collected on June 13, 1787.
The excited Gray claimed the right of discovery and named the plant, choosing the genus name Shortia for Dr. Charles Short, a Kentucky botanist, since the plant came from near Kentucky, with the species name galacifolia for its galax like leaves. He thought his friend could travel over to Carolina and find the plant the following summer. Dr. Short never made the trip nor saw the plant.
And then Gray began his life long hunt for the living Shortia galacifolia and for the location of Michaux's original find, what botanists call the type location. First, he searched through Michaux's journals for a mention of the plant, but saw none. He also made two trips into the Carolina mountains to see if he could find Shortia himself. Assuming that "high mountains" meant the mountains that Michaux visited after the two trips to the Southern Blue Ridge Escarpment, Gray climbed over Roan, Iron, Grandfather, and Black Mountains, all over 5000 feet. He found nothing.
As Professor of Natural History at Harvard and unofficial coordinator of American botany, Gray soon became too busy to keep looking for Shortia himself, but the entire botanical world now knew of his obsession with the plant. And so, when the third discovery of Shortia occurred, this time by a seventeen-year old named George McQeen Hyams, out wandering along the Catawba river near Marion, McDowell County, in May 1877, his serendipitous find eventually made its way back to Gray. Thus, in the fall of 1878, Gray received a dried specimen of the complete plant found in Marion; "[Shortia] …corolla and all, is before me. My long faith rewarded at last." The following spring Gray organized a botanical expedition to Marion to see this Shortia population, but the New England botanists didn't arrive until late in the spring, and the plants were no longer in bloom.
Gray was disappointed about that, and he was also convinced that this Shortia population was not the one that Michaux had discovered; the spot in Marion could never be described as "high mountains," and hence could not be the type location. Botanists have since determined that the McDowell County Shortia population is actually a distinct variety, now called Shortia galacifolia, var. brevistyla, or Northern Oconee Bells.
About ten years later, in 1886, it occurred to Gray that Michaux might have used the term "high mountains" for the very first mountains he encountered in the Southern Blue Ridge Escarpment. So he wrote to another botanist friend, Charles Sprague Sargent (1841-1927), suggesting that he search in that area, where Sargent was already at work looking for Fraser magnolia.
And so we arrive at the fourth discovery. In late 1886 Sargent did find Shortia galacifolia, lots of it, in the "high mountains," at a spot in the escarpment high on the Keowee River at the forks between the Toxaway and Horsepasture feeder rivers. He also found a passage in Michaux's journal that he felt described Shortia, supported this particular spot as the type location, and December 8, 1788, as the collection date.
Sargent's account and his conclusions have been repeated often, but have been increasingly questioned over the last several decades. By studying old maps and reading Michaux's diary more carefully, botanists have almost conclusively proved that he must have collected the two specimens of Shortia on June 13, 1787, instead of December 8, 1788, and at a location on the lower Whitewater River. Their studies were corroborated in 2004 by the fifth discovery of Shortia. In a dramatic moment in the French national herbarium, the American librarian Charlie Williams, the American botanist Eliane Norman, and the French botanist Gerard G. Aymonin pulled out the second collection sheet that Michaux had brought back in 1797, the one he had given to Jussieu, and which was now held in the national herbarium. That sheet is inscribed in Jussieu's hand with the definitive text "given by M. Michaux 1797, collected by him in 1787."
 Shortia galacifolia now has a conservation status of vulnerable globally; in Georgia it is critically threatened; in North Carolina, imperiled; and in South Carolina, vulnerable. Plant collectors, logging, and invasive plants have all taken their toll. But the biggest loss to Shortia occurred in 1973, when Duke Energy built the Jocassee dam and drowned the heart of the world's only endemic population of Shortia galacifolia, including the 1787 and 1788 sites. Fortunately, before the flooding, many plants were relocated to botanic gardens, arboretums, and private locations throughout the east and have naturalized successfully, but probably 60 percent of these native plants, as well as their valuable and critical habitat, were lost forever. Asa Gray died in January, 1888. He never saw Shortia galacifolia in bloom in the wild, and he never found his Holy Grail.
Note: The best place for you to discover native Southern Oconee Bells in bloom on public land is at Devils Fork State Park, Salem, NC, in mid to late March. To see Northern Oconee Bells in bloom, visit Caraway Preserve on an annual field trip run by NC Friends of Plant Conservation, generally in early April.
A good reference for a broad understanding of Shortia is An Oconee Bell Celebration: March 16-18, 2007, Clemson University, ed. Brad Saunders, Fevertree Press, 2007.
Dr. Wilker is an instructor at the Osher School for Lifelong Learning at the University of North Carolina — Asheville. Recently she has taught a class titled, "Into the Mountains with Bartram and Michaux." Dr. Wilker is completing her certification as a Blue Ridge Naturalist through the North Carolina Arboretum.